The Next Pope (after Benedict) - 1 comments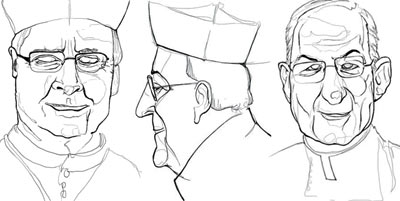 Attention papal historians: while the Pope by Pope series is complete (as long as Benedict is around), I did do some drawings for a just-published book about predicting who the
next pope
will be. It's a seriously in-depth work by Anura Guruge, that serves as a handbook for the next papal election.
Mr. Guruge has has an in-depth analysis of election trends, who's elegible, and who's likely to be in the running to become the next pope. I did blind contour drawings of five of Anu's top contenders, which was really fun to work on.
You can
preview it on Anu's papal blog
, or on
Google Books
. But when you're done with that, you should
buy it from Lulu
!